A Simple Solution For Accessing And Using All Of Your Data
Arbutus Connect is a simple-to-deploy middleware technology that overcomes many of the data access challenges inherent with legacy systems. It provides your Windows, web and server applications with direct and flexible connectivity to all of your relational and non-relational data sources.

Arbutus Connect ensures that the business has the data it needs to make decisions, while IT is able to respond quickly to changing demands. It significantly lowers the cost of fully utilizing the data within your legacy systems. With a short implementation timeframe, reporting and analysis ideas can go from the white board to the boardroom in just days or weeks.




Why Arbutus Connect?

For End Users
Allows for newer and better reporting on areas that were previously not thought possible
End users continue to use existing reporting and analysis tools but, they now have access to additional legacy data sources, no new training required
Unique LegacyLink™ technology enables shortest distance between end user applications and corporate data sources

For IT
Supports centralized set up and administration of all data access
New data sources can be set up in minutes
All data sources can be filtered at both the record and field level
Can potentially eliminate need and cost of new data mart
Allows you to connect your Windows, Server and Web applications to virtually any data source

For Data Sources
Easily integrates non-relational legacy data files with databases
Complements existing data warehouses and data marts by providing access to data that is not available in these main repositories
Simple set up for direct access to legacy data sources
Can potentially eliminate need and cost of new data mart
Arbutus Data Engines support access to both "live" and staged data sources




A Simple Solution For Complex IT Environments


For many end-users the data they need can reside in multiple environments including data warehouses, core applications or various legacy data sources and be hosted on servers from Mainframes to Windows. While an organization's core systems including ERP, CRM, and custom legacy applications do the data processing work and hold the data details, they are spread throughout the enterprise and are not an efficient source for reporting and analysis.

Arbutus Connect offers alternatives to creating data warehouses, data marts, and other repositories that are typically used to consolidate data for end-user reporting and analysis.

Direct Access - Arbutus Connect can provide a direct access to "live" data that - resides on multiple platforms allowing users to have zero data latency when querying data.

Staged Data - When resource constraints or IT policy make direct access solutions impractical, or where Arbutus does not offer a native server for your source platform, Arbutus also enables you to easily stage your data on a Windows or Linux server.

Avoids the expensive loading and set up process of additional data stores

Provides an easy to implement solution that assures an integrated view of all your information that is adaptable to your ever changing business requirements.

Enables fast, efficient deliver of meaningful information to end-users while providing strong IT data management controls.




How Arbutus Connect Works

Arbutus Connect

utilizes the Arbutus LegacyLink™ technology to provide your Windows applications

direct

,

read-only

and

flexible connectivity

to all of your data.

The Arbutus Administrator or IT function uses Analyzer to perform a straightforward file definition process for any files or databases that need to be exposed as tables. Analyzer has a built in data definition wizard that allows for the easy definition of most types of data. At this point, any Windows desktop application that can access ODBC data can directly read the data with LegacyLink™ as if it were stored in a SQL database or data warehouse. LegacyLink™ communicates directly with the Arbutus Data Engines via TCP/IP. There are no additional hardware or software components required for connectivity.

This direct connection to the server resident application offers a number of benefits:
The low component count means low infrastructure (This translates directly into low costs, both to install and maintain)
Since no additional software interfaces are required, you are up and running quickly, with your existing equipment
Having a mainframe resident server gives you the maximum access to your legacy data, including DB2, IMS, VSAM and sequential (QSAM) flat files (You don't need any additional technologies to transform the data for access)
The interface can supply data through any ODBC, JDBC, OLE/DB or .NET connection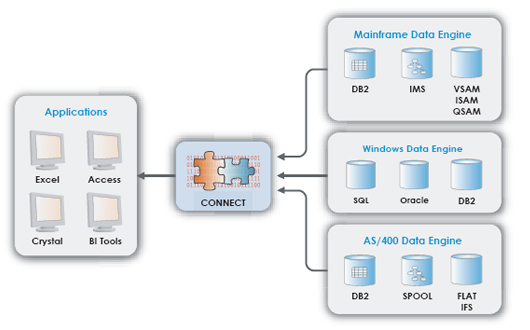 The result is you can implement a data mart style solution, with full access to all your Windows applications, in a matter of days.