Data migration
is a challenging exercise. The
strong technical requirements
often conflict with the ease of use and
cost factors
. This can result in unecpectedly high outlays for acquisition, support infrastructure and sufficiently expert personnel.

The
Arbutus Migrate
technology is designed around a data driven methodology that is proven to reduce the risk associated with data migration projects. This approach is based on our ability to easily query the source data directly, allowing you to reduce both the costs and risks associated with the design and development of migration projects.

The underlying technology has been used for over 20 years by medium and large organizations to access and convert all types of complex legacy data sources. These purpose-built capabilities allow you to convert the source data to the target system's requirements in a more time and cost efficient manner than alternative solutions or methodologies.




Key Arbutus Migrate Capabilities

Usability
Designed to provide the best user interface between your complex legacy data sources and the requirements of your target system
Assistance to overcome lack of data migration expertise (Experienced Arbutus data conversion experts are available to assist as needed)
Flexibility to use other migration tools if required – Arbutus LegacyLink™ technology can seamlessly supply data to other applications
Minimal training and start up time – just one tool to learn and use for all data validation, cleansing and conversion
Use production data without affecting the performance of production systems – Data can be moved between different server platforms for easy staging of data

Purpose-built functionality
Minimize programming requirements : Over 80 built-in functions to extract and transform even your most complex data sources
Easily validate your source data with extensive interactive testing and validation capabilities
Arbutus Migrate automatically creates a comprehensive audit trail of the data migration process

Cost Effective
Avoid the high cost of many ETL tools
Data driving methodology minimizes staffing requirements and allows you to complete projects without the usual time intensive IT skills
Achieve results quickly – Arbutus Migrate sets up in just days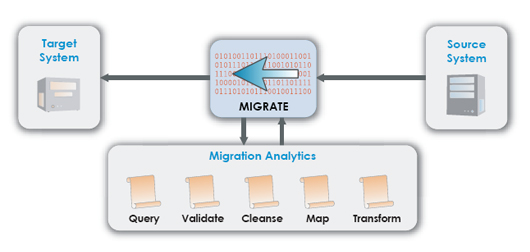 Benefits of Staging the data


When mainframe resource constraints make direct access solutions impractical, or where Arbutus does not offer a native data engine for your source platform, Arbutus also enables you to easily offload your processing to open servers (Windows and Linux).

Having a central staging platform is also helpful when the project needs to bring disparate data sources together. Data from different platforms can be efficiently brought together for testing, validation and conversion.

Unlike typical open server implementations, Arbutus' open data engines (Windows and Linux) are fully compatible with all data set structures and data types encountered on your mainframe or AS/400. This means that the process of staging data is as simple as a file transfer, with no data transformation required. This movement of data can occur within the Arbutus environment or using alternative processes.




Benefits of Staging the data


Our consultants have years of experience in data migration projects, involving mainframes and other systems, and are available to assist at any stage of your project. When needed, our seasoned consultants typically work with your team and provide assistance in the use of "best practices" with the Arbutus technology. When our consultants become involved, your project timelines become our project timelines in ensuring an on-time and successful completion of your migration project.