Although business intelligence tools, standard reports, spreadsheets and SQL query tools all have their important place within an organization, many users still face functionality gaps with these tools in three keys areas:
Reporting and analysis needs involve legacy systems and other non-warehoused data
Application does not support the desired analytics or data volumes
Significant IT resources and preparation are required to support new data queries

Arbutus Query
is specifically designed to
easily analyze data from a wide variety of data sources
and
data types
and to process commercial data volumes, with minimal involvement drom IT personnel. This independence creates benefits or both IT and end users. End users do not need to wait to perform timely and important data analysis and reporting. IT staff can provide quick turn to requests for new data sources.


Arbutus Query
is an intuitive and comprehensive query tool with built in data analysis capabilities for all types of end users. Simpler than traditional query tools,
Arbutus Query
makes it easy for end users to issue ad hoc queries to a wide range of data sources without having to know the location or structure of the underlying data. End users can get the business answers they need quickly, without having to wait for IT assistance.




Key Benefits of Arbutus Query

For End Users
End users are not restricted to data warehouses and data marts
New customized queries and reports can be added without the typical set up time and costs
The intuitive interface is specifically designed for analyzing data
Log file of all queries and results creates permanent audit trail of work performed

For Data Analysis
Easily compare or join disparate data sources
Built in data profiling, testing and verifying capabilities
Data stores from different platforms and data types can be seamlessly queried
Optional query language allows for customized and automated queries to be easily created and deployed

For Data Sources
No file size limitations
Data sources can be added and integrated quickly
The intuitive interface is specifically designed for analyzing data
Read-only insures data integrity




Choose Where The Query And Analysis Takes Place


When mainframe and AS/400 resource constraints make direct access and analysis solutions impractical, Arbutus Query also enables you to easily offload your critical processing to either the Windows or Linux data engine. Unlike typical open server implementations, Arbutus' Windows and Linux Data Engines are fully compatible with all data set structures and data types encountered on your mainframe. This means that the process of staging data is as simple as a file transfer, with no data transformation required. The result is you can implement a data mart style solution, with full access for any type of query, analysis or reporting needs, in a matter of days.

Learn More »




How It Works

Arbutus Query utilizes Arbutus Analyzer to provide direct, read-only queries into all of your data.
Because it's direct, you get the fastest possible performance. In addition, you see the data with zero latency, eliminating the need for operational data store or data mart technologies.
Because it's read-only, your data is secure. While your Windows applications have access to your mainframe data set, they have no ability to write back.
Because it's Windows-based, it's straight forward to install and administer. The Windows interface ensures an ease of use that is uncommon for mainframe and AS/400 query utilities.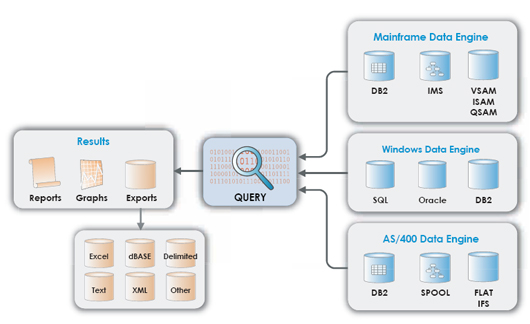 Analyzer communicates directly with the Arbutus Data Engine via TCP/IP. There are no additional hardware or software components required for connectivity. This direct connection to our Data Engines offers a number of benefits:
The low component count means low infrastructure (This translates directly into low costs, both to install and maintain)
Since no additional software interfaces are required, you are up and running quickly, with your existing equipment
When used with the mainframe or AS/400 data engine you have maximum access to your legacy data, including DB2, IMS, VSAM and sequential (QSAM) flat files. You don't need any additional technologies to transform the data for access (Analyze mainframe data as easily as you would a spreadsheet)